Swimming Pool Warranty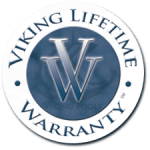 In 1991, Viking Pools introduced its Crystite® finishes to the North American market. At that time, no other US manufacturer was offering any other colors except White and Light Blue. In fact, up until about seven years ago (2006) almost no other manufacturer producing pools in the United States offered anything but White and Light Blue.
In the twenty-one (21) years since the introduction of Crystite®, Viking Pools has manufactured, and our dealer base has installed, over 45,000 Crystite® swimming pools. The performance of the Crystite® finish has been outstanding relative to fading and durability.
Because of that exceptional performance over the past 21 years and the additional accelerated weather testing that has been performed to ASTM standards, Viking Pools offers a 20-Year surface warranty on all of its Crystite® and Diamond Series™ fiberglass composite swimming pools. (Started March 2010 and does not cover pools produced prior to that date.)
Viking's Crystite® and Diamond Series™ finishes are a complex formulation of layered gel coats, colored flakes, sparkles and colored resins. The specific formulations create an available color palette with actual three-dimensional depth which transfers more light and color back into the pool water than other colored finishes.
As the largest manufacturer of fiberglass composite swimming pools in North America, Viking has produced more colored fiberglass composite pools than all other US manufacturers combined. You can enjoy peace of mind in your backyard knowing that your product is backed by the industry leading 20-year surface and Lifetime structural warranties.
Note: Our warranty has changed over the years. Your warranty is indicative of the warranty you were originally given at the time of your pool purchase.
Click to View a Sample Pool Warranty