Pros & Cons Fiberglass vs. Concrete / Gunite Swimming Pools
Here are some of the pro's and con's of vinyl liner, gunite (concrete) and fiberglass pools. For more pros and cons of fiberglass swimming pools, please feel free to browse through our website or contact our fiberglass pool professionals.
Viking Fiberglass Swimming Pools
Viking Fiberglass Pool Pro's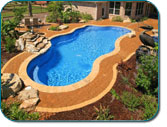 Quick installation(3-5 days). Permanent home improvement that can be customized to compliment your home and your lifestyle. Proven product with factory controlled quality. Flexural strength that prevents cracking in freeze-thaw climates. Stronger than concrete. Smooth finish means no skin abrasions. Non-porous surface resists the problems associated with imbalanced water chemistry, requiring less chemical maintenance, labor, electric, and is algae resistant. Most pool options available perimeter tile, inlaid tile, tile mosaics, Crystite® pool finishes, built-in water features like cascades and streams, fiber optic and LED lighting, vanishing edges, and in-floor cleaning systems.
Viking Fiberglass Pool Con's
Limited size and shapes
Viking Fiberglass Pool Eco-Awareness
Fiberglass pools act as a natural insulator, requiring less electric/gas to heat the pool. Algae is less prone to attach to the smooth surface of a fiberglass pool, requiring less chemicals and maintenance.
Viking Fiberglass Pool Billable Maintenance
Chemicals, Electric Cost
Viking Fiberglass Pool Maintenance Cost for 10 Years
$4,200
Gunite (Concrete) Swimming Pools
Gunite (Concrete) Pool Pro's
Unlimited design capabilities. Permanent home improvement.
Gunite (Concrete) Pool Con's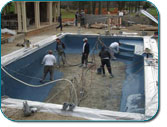 4-8 week installation by subleased contractors. Concrete shows through around the pool's etching (edge). The surface is rough and abrasive and also stains and discolors easily. Porous surface is a breeding ground for algae and other micro-bacteria. Cracks in freeze-thaw climates and requires acid washing and re-plastering. High maintenance; monthly pool service required, excessive use of chemicals and electricity.
Gunite (Concrete) Pool Eco-Awareness
Acid baths emit fumes into the atmosphere. Re-plastered waste adds to our landfills.
Gunite (Concrete) Pool Billable Maintenance
Chemicals, Electric Cost, Acid Baths, Re-plastering, New Tile, Pool Service
Gunite (Concrete) Pool Maintenance Cost for 10 Years
$16,950