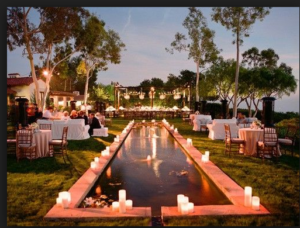 Sure it's autumn, but it's been in the 80s this past week and since you might be itching to throw one last bash before the cool weather hits I thought I give you a few of my fav options for outdoor speakers.
Because come on…it ain't a party if you don't have great music playing loud and for that, you need proper party speakers to shake up the neighborhood. (Invite the entire block this way nobody can complain about the noise!)
In the forties and fifties, people danced to the sound of live musicians because after all there weren't playback devices. For my money, live music will always be the best choice. Hire a band, or if have any talented friends tell them to bring their guitars and rock the house down.
If live music isn't possible, you're in luck. By simply enabling a Bluetooth connection between your smartphone and the party speaker, you can create a playlist of the songs you like from your personal music library or music streaming service account. Modern technology makes it easy for wireless party speakers, which are light, portable, and powerful enough to make water jiggle
Here are just four of the many great speaker selections out there for your next party. Make sure you know what criteria you want before making a purchase since practically every speaker on the market has their strong and weak points.
1.The GTKXB7BC from Sony is a wonderful High Power Home Audio System with its extra bass technology and club-like LED lights. This party speaker offers a range of features that will allow you to experience an advanced high-tech party with great sound and exciting lighting features. The lighting goes from a bright pure white to a multicolored rainbow effect. You can change the power and the speed of the lights to match your party atmosphere and you can even set the lights to flash in sync with the beat of the music. This is a large speaker at around 26″ weighing over 25lbs, so make sure that fits into your scheme of things.
2. Now if you're looking for a party on the go check out the ION Audio Block Party Live. This baby you can take just about anywhere because of its sturdy telescopic handle and rotary wheels. It has a built-in multi-mode LED Light Dome that can be found on top of the speaker. The dome features a series of red, blue and green LED lights that can sync to your music, providing you and your party guests with a spectacular light show. It also has Bluetooth that you can connect to the Audio Block – so make sure that your Smartphone playlist is well stocked with some dance tunes. Just note that it only has one mic port, so if you want to Karaoke you'll need to buy a dual mic adapter for about $10.
3. Big blue party indoor-outdoor Bluetooth speaker is a big fella. Looks modern/high-tech that adds a style but the main advantages of this party speaker are beneath its cover. It's the 360-degree sound that makes it extremely versatile for any location whether it's your room, swimming pool area, or a lawn in the field. Then the ergonomic design is compact, easy to carry and move around. It was ultimately designed to be a portable party speaker. It's also about 15lbs, very lightweight in comparison to others this powerful. Also, the Bluetooth range – it's up to 33 feet away which is more than enough for most partygoers.
This speaker offers a total of 72 watts of power and half of that powers the sub. So you will not only get decent volume but you will get pretty great bass. is not the loudest portable speaker out there, but it will be more than loud enough for a decent sized party.
4. Soundboks.  This is the loudest portable speaker. Just know that if your idea is to throw a small mediocre party with some soft rock/pop in the background then this is not the speaker for you. This portable party speaker is an absolute beast – with 119dB, and will blow the roof off!
Do your homework and compare, and don't forget my invitation.
Photo: Google images