Fiberglass Swimming Pool Safety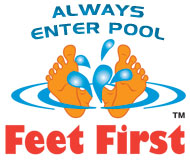 All swimming pools should have a fence with a self closing-self latching gate, at least four feet high. Talk with your Viking Pool Dealer about installing additional safety devices like swimming pool surface alarms, safety covers and child-safety barriers that meet your local building and safety codes and guidelines published by the Association of Pool and Spa Professionals. Safety ropes should always remain in place.
Feet First
FEET FIRST™ Always Enter Swimming Pool Feet First.
Diving May Result in Injury or Death.
Have a conversation with your swimming pool provider about the correct use and installation of safety devices like; safety ropes, child safety barriers, pool surface alarms, and safety covers. Every pool should be surrounded by a locked and gated fence in compliance with the National Spa and Pool Institute's guidelines, as well as with local building and safety codes.
Safety should be the first priority of any new or existing fiberglass swimming pool owner. Make sure to take the necessary steps to assure that you, your friends, family, and anyone else in or around the swimming pool are familiar with the guidelines of its safe and sensible use. Smart fiberglass pool owners urge their guests to not use it under the influence of alcohol, drugs, stimulants, prescription medications, or anything else that could in any way hinder their judgment or abilities.
With your swimming pool, you will receive a free fiberglass pool Customer Information Kit, including:
Safety Sign Installation/Installation Sheet
Signs & Labels
The Sensible Way to Enjoy Your Inground Swimming Pool (APSP Publication)
Children Aren't Waterproof (APSP Publication)
Inground Pool Owner's Handbook
Warranty
Use & Care Manual
Warning Label