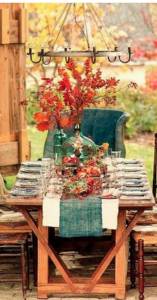 It feels like spring outside this fall, but soon enough the temps will drop and you'll gravitate more toward staying indoors. If you don't want to say goodbye just yet to your backyard here are some ideas to cozy it up and enjoy the stars.
Hot tubs/Spas:
Hot tubs can remain open all year-round and feel especially wonderful with snow on the ground and the cool brisk air on your face as you submerge yourself in the warm water. If you don't have one it's not too late to get one quickly installed. In fact, this is the perfect time of year to do just that. Now is the slower season to install pools, so you can not only get the job done quicker than during the warmer months, but discounts are bigger now as well.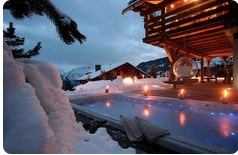 Floor surfacing:
Stone, brick or tile make a wonderful delineation between the pool and a lounge area. You can mix colors or make contrasting borders to liven them up. If you have plain concrete or just grass then an outdoor rug could do the trick. With so many to choose from these days, you'll definitely find one in just your style. They can be placed in front of the seating area or big enough to cover all of your outdoor chairs and sofas.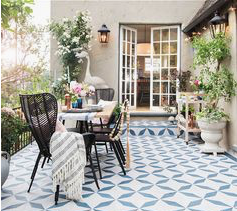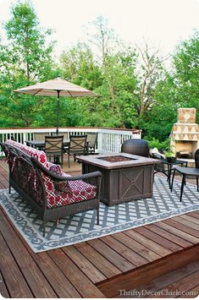 Fire:
What's cozier than a fire especially in the cold weather? Create a beautiful fireplace or fire pit or just buy one already put together and move it around the yard wherever you desire a fire.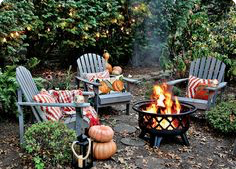 Entertainment:
There are so many ways to entertain outside even in the cold months. The chilly weather is a perfect time to throw a dinner party alfresco–and fewer bugs. If you don't have an outdoor table, drape a tablecloth on a folding table, or put a thick blanket on the ground and have a picnic.
It's also easy enough these days to watch TV outside. You can curl up on a lounger with your fav movie playing on your laptop or bring a big screen TV outside to enjoy.
If you want something more subdued then bring out a blanket and read by the moonlight.
If you just want to chill and listen to music by the fire, set up your speakers and hook into your iPhone music and press play.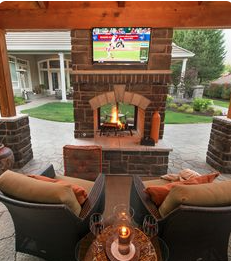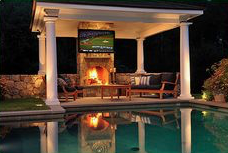 Lighting:
I always liked the look of small white lights in a garden all year long. Twinkle lights are sold in every store now that we're nearing the holidays. Wrap them around a trellis, arbor or dining table legs for a wow! factor when entertaining friends or for a quiet evening for two.
Another outdoor lighting idea is candles. Use a floor candelabra on a stand. And/or spread tea candles around each table surface or chair arm (if it's wide enough) these seem to add just the right amount of luxury. Carving pumpkins isn't just for Halloween–grab any winter squash and use it as a votive for candles.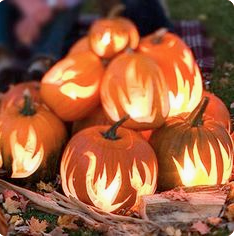 Draping:
Add a little drama to your outdoor living space by draping some sheer or thick fabric or drapery over your trellis. It'll really come in handy if it's windy and it will also give your area a great romantic vibe.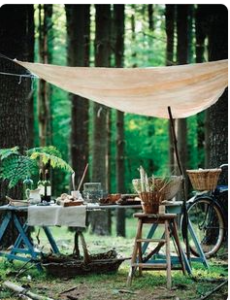 Nature's decor:
Let the leaves fall where they may! The beautifully varied colors of fall leaves may make you think twice before raking and removing. Leaving these on the ground and even sprinkling some atop a table will bring rich color to your new area.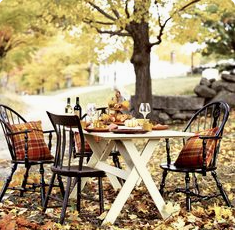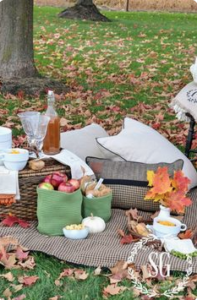 All photos: Pinterest