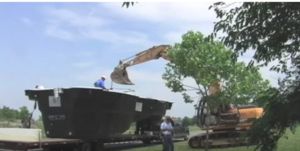 Calm Water Pools installation photo
Purchasing an inground pool is a big decision that cost thousands of dollars and one that can increase home value while providing fun and aesthetics to your home.
Before you buy– research, research, research. Did I say research? Doing your due diligence will help inform all of your decisions with this future purchase…and there are a lot of decisions to be made. Your choices will affect features that should only make sense for your particular needs and how you live. If you dive in (no pun intended) without doing your homework, you could overpay, be surprised come invoice time, or purchase a pool that requires more maintenance than anticipated.
Here are some things you need to know:
Should I choose fiberglass?
That's a hard YES! We've discussed the benefits of fiberglass over vinyl or concrete in other articles here on the blog, (low maintenance for one), and the experts say a fiberglass pool is the best way to go. That's the main reason we decided to install just fiberglass pools. We like to provide the best for our clients and in turn, alleviate any problems down the road with the other options.
And, the price is…?
Price is something that just about everyone needs to consider. You should not only look at the initial purchase price, but the cost over the lifetime of the pool. Choosing a cheaper liner such as vinyl, for example, could cost you much more in the long run. I'd opt for fewer accessories if you need to keep the initial cost down. They can be added later and will keep you from making the wrong decision now.
When will my pool be done?
The second question most homeowners ask after cost is how long will it take. A fiberglass pool is the fastest type of pool to install. The entire process could take 2 – 4 weeks, and weather can make that vary. We just never know what mother nature has in store and trust me this could set the time frame back, so add a few weeks to your desired deadline. The time frame could also fluctuate based on size, options, and how many contractors are working on your site.
Here're some approximate stats: Excavation: 1 hour -1 day, pool delivery: 1-2 hours, placement of stone pool base and plumbing: 1-2 hours, settling and leveling the pool: 2 hours, backfilling then filling with water: 2-8 hours– that wraps up 2 days of working. Next is patio installation which depending on what you choose can take up to 2 weeks. Pool start up: 1-2 weeks. Because the surface of fiberglass pools is factory installed and an integral part of the pool shell, it is fully cured and swim-ready as soon as it's made. Once the pool is full and the pump and filter system is up and running, the water should be balanced and filter cleaned accordingly. There is no need for brushing.
Permits & preparing the land: Excavating the property and determining where the pool will go is first, then the installation begins. Don't forget landscaping. This can transform the entire project. Most people are more involved in getting the pool that they forget about the landscaping which should be considered at the same time the pool is designed. Think about patio space; color, size, shape and how you plan to use it: to grill or sunbathe, etc. Think about a concrete pad if you want to add a diving board or slide. Now also consider plants, grass, shrubs, etc to really finish the look. If you have a larger space, grass shouldn't be placed inside your pool fencing. Also, consider outdoor lighting at this point to really set the tone of your space and hire someone who has your vision for landscaping.
A pool contractor does what exactly?
A swimming pool contractor designs, builds, installs, and repairs swimming pools. If any of the work is outsourced, such as concrete pouring, they hire the professionals to pour the concrete and oversee the entire process. So, a pool contractor makes sure your pool is exactly what you want. No landscape is included unless it's part of your contract and is outsourced.
Happy planning.